Your search is over for the perfect Saxophone Harness!
The Gemini Baritone/Bass Sax Harness!
[sfp-page-plugin url=https://fb.me/saxharness]




Watch the Video Demonstration on YouTube!!


 

Gemini Baritone/Bass Sax Harness
Best Harness Neck Straps for Saxophone, Bass Clarinet, and Bassoon

Mike Murley uses the Gemini !!!
ALSO USED and ENDORSED by
Denis DiBlasio!
The GEMINI SAX HARNESS
Only $46.99
plus $19 shipping
and handling
by Tracked Packet Insured
(please allow 7-10
business days for delivery)
Click BuyNow button in Sizing chart below
to order
the GEMINI Sax Harness
for $46.99 inclusive on Paypal.
(Please NOTE: Outside North America – You will receive a Paypal invoice for at least USD$30.00 extra for Shipping, and more for some countries)
YES, This is probably the most expensive harness you will buy,
but you will never need another!
Your search for the perfect harness is over!
If you like the Gemini Sax Harness
see also
The ULTIMATE REED-FILE
The Gemini Baritone/Bass Sax Harness is for players who want to relieve their necks of the stress of supporting the Baritone or Bass Sax.  Although it can also be used for the Alto and Tenor saxophones, and other instruments too, the Gemini Harness is Ergonomically Correct and perfect for long gigs standing, strolling, or sitting.
For the Serious Saxophonist: Alleviate virtually all neck pain and discomfort.
Performing Arts Medicine Product Endorsement!…
"The Gemini Sax Harness provides musicians' with a safer and healthier way to play.  The ergonomic design of the harness distributes the load across the back unweighting the arms, neck, and shoulders which allows for decreased pain and increased freedom of movement.  The selection of sizes for both men and women allows it to be customized to best fit each individual for ideal posture & positioning."
–Dr. Misty Austin, PPDPT, MPT, B.Kin, Performing Arts Physical Therapist
Musicians' Clinic • Courage Kenny Sports & Physical Therapy • Allina Health
Minneapolis, MN USA
Read Steve Weinert's Review of the Gemini Harness!
Men's sizes available: Small, Medium/Regular*, Large, XL.
Men's Sizes:
Medium/Regular = 36″ – 44″ chest
Large = 38″ – 58″ chest
X-Large = 46″ – 60″ chest
Small = up to 40″ chest (jacket size)
(Please NOTE: Outside North America – You will receive a Paypal invoice for at least USD$30.00 extra for Shipping, and more for some countries)

Video: How to Measure your Chest
MEN's Sizes:
Paypal buttons below
Men's SMALL
(up to 40″ chest)
Men's MEDIUM
(36″ – 44″ chest )
Men's LARGE
(38″ – 58″ chest)
Men's XLARGE
(46″ – 60″ chest)
LADIES Sizes:
Women's SMALL
(up to 40″ ribcage)
Women's MEDIUM
(36″ – 44″ ribcage)
Women's LARGE
(38″ – 58″ ribcage)
Women's XLARGE
(46″ – 60″ ribcage)
Now available in a Ladies' Version too (see photos below)!

*NOTE: Medium/Regular (GM300) fits most (Men's chest size 36-44).
The Heavy-Duty Plastic Spring-Swivel  PS600 hook
is the NEW standard and most recommended (see below).

Please email us with questions before ordering.

Different sizes are custom made-to-order, and may take 4-6 weeks for delivery. 
The Gemini now comes with your choice of strong metal or rigid plastic hook!
Please specify choice of hook when ordering (click the name for photo):


HOOK Types
*The Heavy-Duty Plastic Spring-Swivel PS600 Hook comes standard
on all Gemini Harnesses, unless specified otherwise when ordering.
CAUTION: Metal hooks can scratch your instrument,
and can wear a notch in the hook-eye ring of some instruments
(especially Asian-made saxophones).
European-made and American-made saxophones can handle metal hooks.
LEGAL DISCLAIMER
The purchaser (hereinafter called "the user") of the Gemini Saxophone Harness (hereinafter called "the Harness") hereby agrees to WAIVE any and all claims that he/she may have now or in the future against ELK Trading Co. and/or Nobcor Products Inc. ("the Companies"), and its/their employees, parents, heirs and successors. The user freely ACCEPTS AND FULLY ASSUMES all such risks and possibility of personal injury, death, property damage, expense and related loss, including loss of income, resulting from the use of the Harness; and AGREES TO FOREVER RELEASE the Companies from any and all liability for any and all claims, demands, actions, damages (including direct, indirect, special and/or consequential), losses, actions, judgments, and costs (including legal fees) (collectively, the "Claims") which the user may have or may in the future, that might arise out of, result from, or relate to the use of the Harness, even though such Claims may have been caused by any manner whatsoever, including but not limited to, the negligence, gross negligence, negligent rescue, omissions, carelessness, breach of contract and/or breach of any statutory duty of care of the Companies.
*** CARE and MAINTENANCE of METAL Hooks ***
Apply a drop of machine oil
(or saxophone key-oil)
to your
Metal hook (MS400 or MS500)
on a regular basis (eg., monthly)
or more often to keep
the tab/lever sliding smoothly
with no resistance.
Different sizes and hooks are custom made-to-order,
and may take 4-6 weeks for delivery.
Proudly Made in Canada!
 


(not made in China!)
Ladies' Version
(Shown here in Medium/Regular Size
GF-300 = ribcage 36″ – 46″)
---
GEMINI Sax Harness
c/o Royal City Sax Quartet
Box 2896
Elora, Ontario
Canada  N0B 1S0

The GEMINI SAX HARNESS
Only $46.99
plus $19 shipping and handling
by Tracked Packet Insured
(please allow 7-10 business days for delivery)
Click BuyNow button
in sizing chart above
(Please NOTE: Outside North America
You will receive a Paypal invoice for at least USD$30.00 extra for Shipping,
and more for some countries)
If you like the Gemini Sax Harness
see also
The ULTIMATE REED-FILE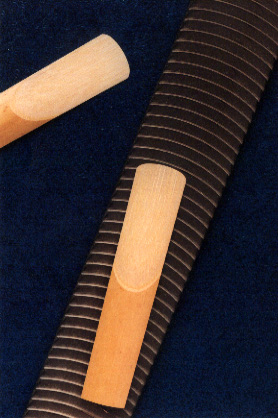 NO PERSONAL CHECKS, Please!
The Gemini Harness is provided with a 30-day money back guarantee. If you're not completely satisfied that you can play the saxophone more comfortably with the Gemini Harness, we'll gladly refund your payment less a $20 re-stocking charge for undamaged goods.
Please call us at 519-846-9663 if you have any questions about this product.
Click here to Visit the Bass Sax Cooperative!
---
Steve Weinert's Review of the Gemini
Sax Harness

PRODUCT REVIEW: The Gemini Baritone and Bass Saxophone Harness
Simply put, logistics are the biggest hurdle to playing Bass Saxophone. Everything seems to be in 'BIG' quantities. More money, big case, big reeds, big mouthpiece, big key movements, and not least of all a big heavy saxophones!
Playing off a saxophone stand is a solution to the weight issue, but puts the saxophone at risk of falling over and the all important embouchure to mouthpiece presentation is often inferior and inconsistent.
Hanging a Bass Saxophone off a neckstrap, even if the bell is captured on the knee, begs the question if it is actually the saxophone or if it is the player that is being hung! Again the loose positioning makes that important embouchure to mouthpiece presentation inconsistent.
Questing for a solid method that didn't sacrifice the player's neck, the Gemini Bass Saxophone Harness was recommended. The Gemini is a progressive design combining the tried and true proven methods of using a dual 'braces/suspenders' shoulder harness with the latest technology in adjustment hardware, strap materials and attach hardware.
Ernie Kalwa of The Royal City Saxophone Quartet through the Saxcess Co. offer the Gemini harness via their website at: www.saxharness.com.  Ernie was kind enough to arrange for a new Gemini to be specially fabricated to suit my build and the Gemini Bass Saxophone Harness arrived by mail the day before I was scheduled to play a lengthy concert exclusively playing Bass Sax. A quick practice and setup session with the Gemini was enough to convince me that I would play from harness rather than neckstrap.
The several hour semi-classical performance was a pleasure, rather than the slow wearing down of being strangled by the neckstrap. Intonation and Tonal issues were improved by the extremely consistent location of the Bass Sax the Gemini allowed. Standing to play is no longer a moment of concern, but has become a non-issue with the Bass Sax safely held by the Gemini. A stand-to-play televised performance was no problem with the Gemini Bass Saxophone Harness.
One part of the Gemini Bass Saxophone Harness is certainly not Bass Sax 'Big' though ' Ernie has been able to keep the costs to a very modest level. After experiencing the Gemini Harness there is no going back to stands or neckstraps. Ernie has told me that many player's also play Baritone Saxophone from the Gemini.
I can wholeheartedly recommend the Gemini to any Bass Saxophonist!
— Steve Weinert
Founder of The Skunk Hollow & Carp Town Saxophone Conspiracy
Founder of The Bass Saxophone Cooperative Internet Site
Reprinted with permission by the author.
---
TESTIMONIALS… 
Read the latest word on the Gemini Sax Harness from real players!
(Reprinted with permission from the authors.)
Doctor-endorsed!:
"The Gemini Sax Harness works fantastic. I really love how easy it is to use and its convenience. It has totally saved my neck, allowing me to play my Tenor Sax as long as I like. Now I don't have to worry about my neck getting all tweaked out every time I play. Thank  you so much for this great product, which promises to give me many more years of musical pleasure and enjoyment on an instrument that I was seriously considering having to quit altogether. After 45 years of playing and in otherwise excellent health, this was a sad proposition indeed." Dr. Art Brownstein www.docbrownstein.com
---
December 2020
Just wanted to let you know I received the harness a couple weeks ago, and so far I'm really enjoying it. It took some getting used to the way my sax is positioned compared to a neck strap, but I can feel the difference in my back while playing!
Overall I'm really happy with it!
-Justin (Louisiana)
December 2019
I have been using your strap on my bari sax for about 20 years now and it is fantastic!  I played a parade on Remembrance Day with my alto and wanted some neck relief on the lighter horn (and long march) and it worked well there too.  I forgot to return the harness to the bari sax case, so when I played bari for a seniors home concert, it wasn't there, it was still in the alto case.  I borrowed a neck strap from the lady on lead alto, and it was painful, even for just the one hour concert, sitting down.  I won't make that mistake again, it reminded me so well of why I bought your harness in the first place.   Even after 20 years, the harness it holding up well, no real wear.  The plastic hook and adjustment locks have never failed (which surprised me with a plastic product). As you can imagine, I am very pleased with the first harness, and would like to buy another one.  I will use the new one for the bari (a Thursday concert band), and the older one for the alto (a different Wednesday concert band).  I rarely use my tenor, but occasionally get asked to sub in a dance band so can use it there too.  I really can't see me returning to a neck strap, the harness is so much easier on my neck and shoulders, and that one concert drove that home. I love the product and it continues to work extremely well after 2 decades. Great to order a second one!
-David B. (Canada)
March 2018
The file and strap are fantastic!!!!!  Was working on some reeds until midnight  and had great success!  (Needed to do a bit filing more than in the instructions to get the response I was looking for.)
Looking forward to listening to the CD's as I love saxophone quartets!  Thank you very very much!  Definitely will spread the word on these fantastic items……
-Peter (Wisconsin)
December 15, 2017
You're absolutely right, your harness is way better and far more comfortable than anything else I've ever used. Bravo!
— Mark K. (Ann Arbor, Michigan USA)
April 5, 2017
The Harness came and I've been playing with it for couple of days. It is really good and it really improves my playing position.
Kiitos paljon!
— Henri (Finland)
December 13, 2016
I bought a Selmer Super Action 80 Series ll Bass sax. Right away I realized that a neck strap wouldn't cut it. I found your harness on an internet search. It works great! I have tried many other configurations and this is the best. I also use one on bari sax and am switching to a Gemini for tenor. I had some neck injuries many years ago as a firefighter and the neck can't hack it anymore even with tenor.
— Gordon (California USA)
October, 2016
The Gemini works really well for me.  Easily adjustable between tenor and bari – and while other harnesses I've tried have been too tight, this one has room for me to grow!  Also, thanks for the CD. Great playing!
— Mike (Ontario Canada)
December 2015
I originally heard about the Gemini sax harness on SOTW (www.saxontheweb.net) a while back, however I wasn't really interested. When I went to college a couple of years ago at The Berklee College Of Music, my saxophone instructors Bill Pierce, Dino Govoni, and George Garzone all used the Gemini harness and told me that it was fantastic non-intrusive, and gave as much freedom as most people needed. After a while i developed a little bit of nerve issues on my spine and i decided to give you product a go.
— Jacky (San Francisco, CA USA)
July 2015
I heard about the Gemini harness through my old teacher Mike Murley, so I figured that it would be a great product! I've really enjoyed it – it's well-made and very easy to use and adjust. And thanks for the CD as well!
–Matt (New York, NY USA)

March 31, 2015
I received the Gemini Harness today. It's Absolutely the single best saxophone related purchase I've ever made! Easy to adjust and fit and works superbly. I can feel most of the weight transferred to my shoulders and the middle of my back between the should blades. It is perfect. I will not hesitate to recommend your strap to anyone else suffering from neck pain or who wants to move away from a neck strap.
Sincerely, — Tom (Australia)

March 26, 2015
Hey there- this is my second one! These are great…I had an auto accident in 2010 that has effectively made using a strap (for tenor & bari) impossible. Your harness makes all the difference. I wish I'd had one years ago! Thanks much, and all the best.
-Jon (Washington, USA)
March 2015
My Gemini Sax Harness arrived promptly and I couldn't be happier with it. I don't know how I lived without one for all these years.
–Greg (North Carolina, USA)
August 28th, 2014
Dear Royal City Saxophone Quartet / ELK Trading Co.,
Thank you so much for your contribution to the performing arts community with your thoughtfully designed Saxophone product(s) for improved instrument ergonomics.  The Courage Kenny Musicians' Clinic thanks you for your Gemini Sax Harness sample for the 'Adaptive Equipment & Instrument Modification for the Wind Instrumentalist Workshop' at the Annual PAMA (Performing Arts Medicine Association) 2014 Symposium.  The 60 minute workshop was a success; we had every seat filled and standing room for about 50 medical professionals, music educators, & musicians.  We had real wind instruments to demonstrate the product use and fake instruments to pass around for participants to try the products for themselves; everyone was very receptive and interactive.  Your contribution gave the right professionals a hands opportunity to experience optimal ergonomics for ease of play.  
Thank You for Your Contribution,
Misty Austin, PPDPT, MPT, B.Kin and Marcia Sitz, OTRL, CHT, CLT
Musicians' Clinic • Courage Kenny Sports & Physical Therapy • Allina Health
Minneapolis, MN USA
https://www.allinahealth.org/ahs/ski.nsf/page/perform#overview
https://artsmed.org/
https://athletesandthearts.com/videos/
---
Your firm has certainly deserves positive FIVE STARS from this sax player, who put the  large Gemini harness to good use on a UK tour this past October.  I played nine gigs with no neck or right thumb pain!  With the purchase of this large Gemini strap I no longer need move my extra large Gemini strap between my tenor and my baritone.  I received timely shipping and no hassles.  Best regards,  Mike  (NY, USA)

You have a winner! I give this sax strap 5 Stars! As a small woman I have literally suffered debilitating neck pain, which led to debilitating back pain due to my sax straps. So in my quest I've used thick, thin, yoke, sling, and harness straps. I was about to hire a friend to make a prototype of my dream harness when I found the Gemini. It's perfect. The small size is adjustable so it fits perfectly over the shoulders while there's enough give in the front so I can move and adjust the sax easily for sitting and standing positions.  It's sturdy with every aspect from straps to buckles of high quality. And most importantly, I can play my horn for hours for gigs, rehearsals, and lessons, without the neck pain. Since I have some small students, I will passionately  recommend this strap so their little growing bodies will not be damaged by a heavy instrument around a delicate neck. Thank you!
— Robin Rader, Los Angeles, CA – Oct 2014 – Author of a great book on practice motivation "Your Dream is at Your Fingertips", available from jazzbooks.com, or by contacting Robin at rjrader222@gmail.com
I LOVE the Gemini harness when I play my bari sax! Your Gemini Harness is the way to go for "The Big Monster." Every sax player who sees and uses the Gemini Harness generally has the same reaction, which is basically, "Wow! It's really made well!"  The quality, materials, and impeccable workmanship and design of this harness is the best I've ever seen from any company. I wish you much success.
— Jim Scimonetti, California USA www.jimscimonetti.com   
"THE Harness"…
Just small note about a great product, the Gemini Harness, I call it "THE Harness" (with an underline on "THE")because I have purchased many others, straps and the like. My search is over!  It just took a few minutes to get mine adjusted just right, and I am good to go. It is really a GREAT product! –the comfort, the sax adjustments, NO neck pain. I couldn't, and don't need to ask for anything more. This is it, and at a great price!  Glad to be a part of endorsing such a wonderful product! I find one adjustment fits both alto and tenor. I will be ordering another Gemini soon!
THANK YOU! — Keith (Bermuda) 2014
I want to tell you how happy I am with the Gemini harness.  It is really wonderful.  It took me some time and experimentation to finally get to a right set of adjustments but once I did, it was great.  Not only was the pressure off my neck but it was easy to have proper alignment of the horn overall, with minimal work for my hands and arms.  You've designed a wonderful product and I've already recommended it to others.  Thank you!
–Sam (Chicago) 2014
I received my Gemini Sax Harness yesterday. I must admit, it is excellent – a revelation for baritone sax!
–Martin (UK, 2014)
 I sure am loving the beautifully crafted Gemini Sax harness you fixed me up with. It is really great!
A distracted woman plowed into my car at 60+ MPH while I was stopped at a red light last December. It really messed up my neck. I play a lot of Bari lately, and I would never be able to tolerate the weight of a low-A bell bari sax with a regular neck strap.
I always post top Five Star ratings for your Gemini Sax Harness on all the sax web sites, and I will continue to do so.
Thank you!!!
–Jim (California, USA, 2013)
Thanks for the order.I love my harness! It frees up the throat muscles so much and takes the strain off of the neck, that the first couple of gigs was a learning experience.I rave about it to everyone I see. I LOVE the Reedfile reed table planer too! (www.reedfile.com)
— Curtis (USA, 2013)
I have never received such great service.  The strap arrived today and I love it!
Thanks very much,
— Trevor (Canada, 2012)
"The harness arrived yesterday. Great design, great build, great product. Thank you.'
–Tim (Michigan, USA, 2011)
"I've had my Gemini for several years now.  Very happy with it.  For bari and bass saxophone I haven't found anything that works better." — John L. (2010).
"The Gemini strap is quite comfortable and does an excellent job of keeping the weight of the instrument off your neck.  It is extensively adjustable so should fit players of most any size.  It is a well- conceived and well-executed accessory." — Rick J. (Los Angeles, USA)
 "[The Gemini Harness] feels very good. Easy to adjust, and it doesn't slip. Playing the baritone is a new experience!" –Walter (Australia)
"Just a word of thanks for such a great sax product.  The harness I purchased fits great, build quality is awesome, but most of all ends the pain in my back I was having using a regular neck strap. Your harness was the third new sax strap I have purchased in the quest to eliminate my back pain. I guess the third one is the charm !  The first neck strap  I purchased was the Cebulla padded neck strap.  A nice well padded neck strap but still a neck strap.  Next product which failed was the Oleg ergonomic harness strap.  Again, nice neck strap but the suspender straps which attach to you belt loops to take the weight off your neck will not stay in adjustment and within a few minutes of use the weight of the sax is all on the neck.
Good luck and thanks again for such a fine product."
Sincerely,
James D. (Illinois, USA)
"The strap arrived in today's mail – in time for tonight's gig! Thanks for your great service. And thanks for making a strap that doesn't make me feel like I am trying to squeeze into my old high school band uniform! It's really well made and very comfortable."
— Jeff S. (Minnesota, USA)
"The harness arrived today. Wow!  Right away, I could focus on playing the bass instead of fidgeting and wrestling with it. Soon, I will take this for granted – the hallmark of an exceptional product. Please add me to your list of satisfied customers. Thanks!"
— Rufus Acosta, Acosta Woodwind & Brass Repair, Mountain View, CA USA
"I received the Gemini Sax Harness yesterday and it is truly a wonderful product! I am 61 years old and started taking sax lessons last November.  I could not find a product that would remove the weight of the instrument from my neck and allow me to play standing up comfortably. The Gemini does this remarkably well. I have found that the adjustability of the harness allows me to position the sax exactly where I want it. The clamp mechanism tightens the straps securely without any slipping. Thanks for the fast shipping too!" Sincerely,
–Allan G. (Maryland, USA)
"Great harness! Used it at a 3-hour rehearsal (on bari) and didn't get the usual back pain around hour two. Also like the offset hook; the horn hangs right without any effort. Plus it shortens up enough to get my ancient Buescher bass into a comfortable playing position. I'm going to order another one to use with tenor (weight's not an issue, but harnesses work well with suit coats). Thanks!"
–Tod S. (California, USA)
"The Harness came the day you predicted. It worked out perfectly.
I had a chance to play it in the section that night. With a few adjustments, it's working great and I'm very pleased and my neck feels a lot better. It's all that I'm using now.
I'll be telling folks about your Harness and can recommend it to them with confidence.
I appreciate doing business the "old fashioned" way ' thanks for taking time
To talk with me and for shipping the same day. Many thanks!"
— Nash G. (Maine, USA)
---
As seen on:

---
ELK Trading Co.
P.O. Box 2896
Elora, Ontario  N0B 1S0
Phone & Fax: 519-846-9663
Contact Us
Email Us
All images and content on this page are Copyright (c) 1996-2021 ELK Trading Co. and The Royal City Saxophone Quartet.
Any use without permission is strictly prohibited. All rights reserved.